I apologize for my long absence. Honestly, I just didn't care to update my journal. I'm more active on the Twitter, and I like how I don't have to write out too much.

I let my domain name expire, which means I no longer have a wordpress blog at this time. I seldom use the roguechick moniker now days. I felt that I outgrew it. I have no intentions to change it for my lj, and I still use it for my email, but I thought it was time to move on.

I should have written about this back in June 2013, but I finally got to see Christian wrestle in person. I had bought tickets when I heard WWE was going to be in Fargo again. He had been out of action due to shoulder surgery, and hadn't been back yet when I bought the tickets. It was pure luck that he returned about 2 weeks before the event. It was AWESOME! He tagged with Daniel Bryan against The Shield. It was so nice to see wrestling. I got a ton of pictures from the event which can be seen at my flickr.

Just before that event, my cousin moved in with me. It was supposed to be for just a few months, but she ended up staying for a year and a half. It got frustrating. She seldom helped out around the house, and managed to go through 4 jobs in that time. She moved out just before Xmas. She's now 3 hours away, and it's been blissful around here.

My parents cat Sox passed away in 2013. He was 20 years old. Here's one of the last photos we took of the best cat to ever live.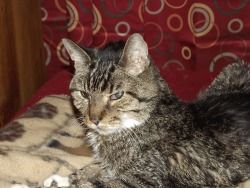 I was fortunate enough to be with him when he passed. I miss him lots.

Work is going well, though we have had some employee issues. Sadly, I think one is on drugs. I don't know what drugs, but it doesn't sound like marijuana. It's sad that she has fallen into such a thing. She's really nice. Drugs suck.

I had to stop yoga. I hurt my arm really bad, and it took months for it to heal to the point that I could put weight on it. I have every intention to start it up again soon.

Well, that's all I have for now. I should look back on my Twitter to refresh my memory. TTYL!